What a happy coincidence.
Have a seat, grab some chocolate.
So what's on your mind?
Whatever it is, we're all ears!
Just type your heart out in this here lovely form and we'll get back to you pronto!
Stella & Julia
interested in working with us?
let's create something fabulous together.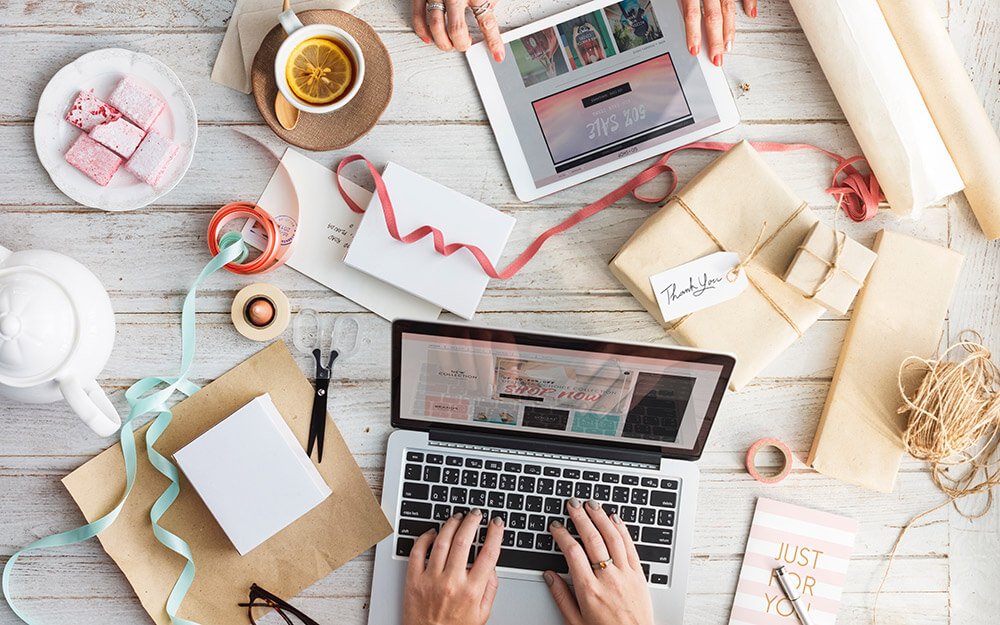 You need a stunning virtual home for your business: a starter website that will put you on the map (and blow the competition right off it); a full-on pro website that will sustain your growing empire like a small army of well-trained soldiers (in very chic uniforms); or maybe you just need a landing page or two that will make people feel like they've just landed on the loveliest place of the interwebs.
If it's related to web design and MUST.MAKE.JAWS.DROP, talk to Stella. She's got you styled!
Got a project you want to talk to Stella about?! GREAT!! Just use this form to get the conversation started and get a quote. Quotations are custom tailored to your needs. Prices start at $2900. Make sure to include the scope of your project and your desired deadline. Deadlines are super important.
You need some seriously fun and client-attracting web copy that bursts with personality (without teeming with buzzwords) and catapults your business far above the jargon-spewing competition. Or maybe you need to crank up the sales on that new course or product you just launched and which has seen less action than an ad board in the middle of the desert. Or how about some product descriptions that are simply too good to resist (or put off buying till later) or an email series so compelling that leaves your audience begging to give you their money if you'll just take it! Please take it all! NOW!
If it's got words in it and needs some personality polish (and a dash of money-making superpowers), talk to Julia. She's got you. Word.
There are currently no copywriting spots available. Boooooooooooooooo!
We know, we know but we are lucky enough to say that Julia's schedule is fully booked beyond any date worth mentioning. If you would like to be among the first to be notified if something ever changes pop your email in the form below.
<style type="text/css"><!-- [et_pb_line_break_holder] --> @import url(https://fonts.googleapis.com/css?family=Open+Sans:400,400italic,700,700italic);<!-- [et_pb_line_break_holder] --></style><!-- [et_pb_line_break_holder] --><style type="text/css"><!-- [et_pb_line_break_holder] --> /* LOADER */<!-- [et_pb_line_break_holder] --> .ml-form-embedSubmitLoad {<!-- [et_pb_line_break_holder] --> display: inline-block;<!-- [et_pb_line_break_holder] --> width: 20px;<!-- [et_pb_line_break_holder] --> height: 20px;<!-- [et_pb_line_break_holder] --> }<!-- [et_pb_line_break_holder] --> .ml-form-embedSubmitLoad:after {<!-- [et_pb_line_break_holder] --> content: " ";<!-- [et_pb_line_break_holder] --> display: block;<!-- [et_pb_line_break_holder] --> width: 11px;<!-- [et_pb_line_break_holder] --> height: 11px;<!-- [et_pb_line_break_holder] --> margin: 1px;<!-- [et_pb_line_break_holder] --> border-radius: 50%;<!-- [et_pb_line_break_holder] --> border: 4px solid #fff;<!-- [et_pb_line_break_holder] --> border-color: #ffffff #ffffff #ffffff transparent;<!-- [et_pb_line_break_holder] --> animation: ml-form-embedSubmitLoad 1.2s linear infinite;<!-- [et_pb_line_break_holder] --> }<!-- [et_pb_line_break_holder] --> @keyframes ml-form-embedSubmitLoad {<!-- [et_pb_line_break_holder] --> 0% {<!-- [et_pb_line_break_holder] --> transform: rotate(0deg);<!-- [et_pb_line_break_holder] --> }<!-- [et_pb_line_break_holder] --> 100% {<!-- [et_pb_line_break_holder] --> transform: rotate(360deg);<!-- [et_pb_line_break_holder] --> }<!-- [et_pb_line_break_holder] --> }<!-- [et_pb_line_break_holder] --> #mlb2-1083206.ml-form-embedContainer {<!-- [et_pb_line_break_holder] --> box-sizing: border-box;<!-- [et_pb_line_break_holder] --> display: table;<!-- [et_pb_line_break_holder] --> height: 100%;<!-- [et_pb_line_break_holder] --> margin: 0 auto;<!-- [et_pb_line_break_holder] --> position: static;<!-- [et_pb_line_break_holder] --> width: 100% !important;<!-- [et_pb_line_break_holder] --> }<!-- [et_pb_line_break_holder] --> #mlb2-1083206.ml-form-embedContainer h4,<!-- [et_pb_line_break_holder] --> #mlb2-1083206.ml-form-embedContainer p,<!-- [et_pb_line_break_holder] --> #mlb2-1083206.ml-form-embedContainer span,<!-- [et_pb_line_break_holder] --> #mlb2-1083206.ml-form-embedContainer button {<!-- [et_pb_line_break_holder] --> text-transform: none !important;<!-- [et_pb_line_break_holder] --> letter-spacing: normal !important;<!-- [et_pb_line_break_holder] --> }<!-- [et_pb_line_break_holder] --> #mlb2-1083206.ml-form-embedContainer .ml-form-embedWrapper {<!-- [et_pb_line_break_holder] --> background-color: #fff;<!-- [et_pb_line_break_holder] --> <!-- [et_pb_line_break_holder] --> border-width: 0px;<!-- [et_pb_line_break_holder] --> border-color: transparent;<!-- [et_pb_line_break_holder] --> border-radius: 0px;<!-- [et_pb_line_break_holder] --> border-style: solid;<!-- [et_pb_line_break_holder] --> box-sizing: border-box;<!-- [et_pb_line_break_holder] --> display: inline-block !important;<!-- [et_pb_line_break_holder] --> margin: 0;<!-- [et_pb_line_break_holder] --> padding: 0;<!-- [et_pb_line_break_holder] --> position: relative;<!-- [et_pb_line_break_holder] --> }<!-- [et_pb_line_break_holder] --> #mlb2-1083206.ml-form-embedContainer .ml-form-embedWrapper.embedPopup,<!-- [et_pb_line_break_holder] --> #mlb2-1083206.ml-form-embedContainer .ml-form-embedWrapper.embedDefault { width: 100%; }<!-- [et_pb_line_break_holder] --> #mlb2-1083206.ml-form-embedContainer .ml-form-embedWrapper.embedForm { max-width: 100%; width: 100%; }<!-- [et_pb_line_break_holder] --> #mlb2-1083206.ml-form-embedContainer .ml-form-align-left { text-align: left; }<!-- [et_pb_line_break_holder] --> #mlb2-1083206.ml-form-embedContainer .ml-form-align-center { text-align: center; }<!-- [et_pb_line_break_holder] --> #mlb2-1083206.ml-form-embedContainer .ml-form-align-default { display: table-cell !important; vertical-align: middle !important; text-align: center !important; }<!-- [et_pb_line_break_holder] --> #mlb2-1083206.ml-form-embedContainer .ml-form-align-right { text-align: right; }<!-- [et_pb_line_break_holder] --> #mlb2-1083206.ml-form-embedContainer .ml-form-embedWrapper .ml-form-embedHeader img {<!-- [et_pb_line_break_holder] --> border-top-left-radius: 0px;<!-- [et_pb_line_break_holder] --> border-top-right-radius: 0px;<!-- [et_pb_line_break_holder] --> height: auto;<!-- [et_pb_line_break_holder] --> width: 100%;<!-- [et_pb_line_break_holder] --> }<!-- [et_pb_line_break_holder] --> #mlb2-1083206.ml-form-embedContainer .ml-form-embedWrapper .ml-form-embedBody,<!-- [et_pb_line_break_holder] --> #mlb2-1083206.ml-form-embedContainer .ml-form-embedWrapper .ml-form-successBody {<!-- [et_pb_line_break_holder] --> padding: 20px 20px 0 20px;<!-- [et_pb_line_break_holder] --> }<!-- [et_pb_line_break_holder] --> #mlb2-1083206.ml-form-embedContainer .ml-form-embedWrapper .ml-form-embedBody.ml-form-embedBodyHorizontal {<!-- [et_pb_line_break_holder] --> padding-bottom: 0;<!-- [et_pb_line_break_holder] --> }<!-- [et_pb_line_break_holder] --> #mlb2-1083206.ml-form-embedContainer .ml-form-embedWrapper .ml-form-embedBody .ml-form-embedContent,<!-- [et_pb_line_break_holder] --> #mlb2-1083206.ml-form-embedContainer .ml-form-embedWrapper .ml-form-successBody .ml-form-successContent {<!-- [et_pb_line_break_holder] --> margin: 0 0 20px 0;<!-- [et_pb_line_break_holder] --> }<!-- [et_pb_line_break_holder] --> #mlb2-1083206.ml-form-embedContainer .ml-form-embedWrapper .ml-form-embedBody .ml-form-embedContent h4,<!-- [et_pb_line_break_holder] --> #mlb2-1083206.ml-form-embedContainer .ml-form-embedWrapper .ml-form-successBody .ml-form-successContent h4 {<!-- [et_pb_line_break_holder] --> color: #000000;<!-- [et_pb_line_break_holder] --> font-family: 'Open Sans', Arial, Helvetica, sans-serif;<!-- [et_pb_line_break_holder] --> font-size: 30px;<!-- [et_pb_line_break_holder] --> font-weight: 400;<!-- [et_pb_line_break_holder] --> margin: 0 0 10px 0;<!-- [et_pb_line_break_holder] --> text-align: left;<!-- [et_pb_line_break_holder] --> word-break: break-word;<!-- [et_pb_line_break_holder] --> }<!-- [et_pb_line_break_holder] --> #mlb2-1083206.ml-form-embedContainer .ml-form-embedWrapper .ml-form-embedBody .ml-form-embedContent p,<!-- [et_pb_line_break_holder] --> #mlb2-1083206.ml-form-embedContainer .ml-form-embedWrapper .ml-form-successBody .ml-form-successContent p {<!-- [et_pb_line_break_holder] --> color: #666;<!-- [et_pb_line_break_holder] --> font-family: 'Open Sans', Arial, Helvetica, sans-serif;<!-- [et_pb_line_break_holder] --> font-size: 14px;<!-- [et_pb_line_break_holder] --> font-weight: 400;<!-- [et_pb_line_break_holder] --> margin: 0 0 10px 0;<!-- [et_pb_line_break_holder] --> text-align: left;<!-- [et_pb_line_break_holder] --> }<!-- [et_pb_line_break_holder] --> #mlb2-1083206.ml-form-embedContainer .ml-form-embedWrapper .ml-form-embedBody .ml-form-embedContent ul,<!-- [et_pb_line_break_holder] --> #mlb2-1083206.ml-form-embedContainer .ml-form-embedWrapper .ml-form-embedBody .ml-form-embedContent ol,<!-- [et_pb_line_break_holder] --> #mlb2-1083206.ml-form-embedContainer .ml-form-embedWrapper .ml-form-successBody .ml-form-successContent ul,<!-- [et_pb_line_break_holder] --> #mlb2-1083206.ml-form-embedContainer .ml-form-embedWrapper .ml-form-successBody .ml-form-successContent ol {<!-- [et_pb_line_break_holder] --> color: #666;<!-- [et_pb_line_break_holder] --> font-family: 'Open Sans', Arial, Helvetica, sans-serif;<!-- [et_pb_line_break_holder] --> font-size: 14px;<!-- [et_pb_line_break_holder] --> }<!-- [et_pb_line_break_holder] --> #mlb2-1083206.ml-form-embedContainer .ml-form-embedWrapper .ml-form-embedBody .ml-form-embedContent p a,<!-- [et_pb_line_break_holder] --> #mlb2-1083206.ml-form-embedContainer .ml-form-embedWrapper .ml-form-successBody .ml-form-successContent p a {<!-- [et_pb_line_break_holder] --> color: #666;<!-- [et_pb_line_break_holder] --> text-decoration: underline;<!-- [et_pb_line_break_holder] --> }<!-- [et_pb_line_break_holder] --> #mlb2-1083206.ml-form-embedContainer .ml-form-embedWrapper .ml-form-embedBody .ml-form-embedContent p:last-child,<!-- [et_pb_line_break_holder] --> #mlb2-1083206.ml-form-embedContainer .ml-form-embedWrapper .ml-form-successBody .ml-form-successContent p:last-child {<!-- [et_pb_line_break_holder] --> margin: 0;<!-- [et_pb_line_break_holder] --> }<!-- [et_pb_line_break_holder] --> #mlb2-1083206.ml-form-embedContainer .ml-form-embedWrapper .ml-form-embedBody form {<!-- [et_pb_line_break_holder] --> margin: 0;<!-- [et_pb_line_break_holder] --> width: 100%;<!-- [et_pb_line_break_holder] --> }<!-- [et_pb_line_break_holder] --> #mlb2-1083206.ml-form-embedContainer .ml-form-embedWrapper .ml-form-embedBody .ml-form-formContent,<!-- [et_pb_line_break_holder] --> #mlb2-1083206.ml-form-embedContainer .ml-form-embedWrapper .ml-form-embedBody .ml-form-checkboxRow {<!-- [et_pb_line_break_holder] --> margin: 0 0 20px 0;<!-- [et_pb_line_break_holder] --> width: 100%;<!-- [et_pb_line_break_holder] --> }<!-- [et_pb_line_break_holder] --> #mlb2-1083206.ml-form-embedContainer .ml-form-embedWrapper .ml-form-embedBody .ml-form-formContent.horozintalForm {<!-- [et_pb_line_break_holder] --> margin: 0;<!-- [et_pb_line_break_holder] --> padding: 0 0 20px 0;<!-- [et_pb_line_break_holder] --> }<!-- [et_pb_line_break_holder] --> #mlb2-1083206.ml-form-embedContainer .ml-form-embedWrapper .ml-form-embedBody .ml-form-fieldRow {<!-- [et_pb_line_break_holder] --> margin: 0 0 10px 0;<!-- [et_pb_line_break_holder] --> width: 100%;<!-- [et_pb_line_break_holder] --> }<!-- [et_pb_line_break_holder] --> #mlb2-1083206.ml-form-embedContainer .ml-form-embedWrapper .ml-form-embedBody .ml-form-fieldRow.ml-last-item {<!-- [et_pb_line_break_holder] --> margin: 0;<!-- [et_pb_line_break_holder] --> }<!-- [et_pb_line_break_holder] --> #mlb2-1083206.ml-form-embedContainer .ml-form-embedWrapper .ml-form-embedBody .ml-form-fieldRow.ml-formfieldHorizintal {<!-- [et_pb_line_break_holder] --> margin: 0;<!-- [et_pb_line_break_holder] --> }<!-- [et_pb_line_break_holder] --> #mlb2-1083206.ml-form-embedContainer .ml-form-embedWrapper .ml-form-embedBody .ml-form-fieldRow input {<!-- [et_pb_line_break_holder] --> background-color: #ffffff !important;<!-- [et_pb_line_break_holder] --> color: #999 !important;<!-- [et_pb_line_break_holder] --> border-color: #cccccc !important;<!-- [et_pb_line_break_holder] --> border-radius: 0px !important;<!-- [et_pb_line_break_holder] --> border-style: solid !important;<!-- [et_pb_line_break_holder] --> border-width: 1px !important;<!-- [et_pb_line_break_holder] --> font-size: 14px !important;<!-- [et_pb_line_break_holder] --> line-height: 20px !important;<!-- [et_pb_line_break_holder] --> padding: 10px 10px !important;<!-- [et_pb_line_break_holder] --> width: 100% !important;<!-- [et_pb_line_break_holder] --> box-sizing: border-box !important;<!-- [et_pb_line_break_holder] --> max-width: 100% !important;<!-- [et_pb_line_break_holder] --> }<!-- [et_pb_line_break_holder] --> #mlb2-1083206.ml-form-embedContainer .ml-form-embedWrapper .ml-form-embedBody .ml-form-fieldRow input::-webkit-input-placeholder,<!-- [et_pb_line_break_holder] --> #mlb2-1083206.ml-form-embedContainer .ml-form-embedWrapper .ml-form-embedBody .ml-form-horizontalRow input::-webkit-input-placeholder { color: #999; }<!-- [et_pb_line_break_holder] --> <!-- [et_pb_line_break_holder] --> #mlb2-1083206.ml-form-embedContainer .ml-form-embedWrapper .ml-form-embedBody .ml-form-fieldRow input::-moz-placeholder,<!-- [et_pb_line_break_holder] --> #mlb2-1083206.ml-form-embedContainer .ml-form-embedWrapper .ml-form-embedBody .ml-form-horizontalRow input::-moz-placeholder { color: #999; }<!-- [et_pb_line_break_holder] --> <!-- [et_pb_line_break_holder] --> #mlb2-1083206.ml-form-embedContainer .ml-form-embedWrapper .ml-form-embedBody .ml-form-fieldRow input:-ms-input-placeholder,<!-- [et_pb_line_break_holder] --> #mlb2-1083206.ml-form-embedContainer .ml-form-embedWrapper .ml-form-embedBody .ml-form-horizontalRow input:-ms-input-placeholder { color: #999; }<!-- [et_pb_line_break_holder] --> <!-- [et_pb_line_break_holder] --> #mlb2-1083206.ml-form-embedContainer .ml-form-embedWrapper .ml-form-embedBody .ml-form-fieldRow input:-moz-placeholder,<!-- [et_pb_line_break_holder] --> #mlb2-1083206.ml-form-embedContainer .ml-form-embedWrapper .ml-form-embedBody .ml-form-horizontalRow input:-moz-placeholder { color: #999; }<!-- [et_pb_line_break_holder] --> <!-- [et_pb_line_break_holder] --> <!-- [et_pb_line_break_holder] --> #mlb2-1083206.ml-form-embedContainer .ml-form-embedWrapper .ml-form-embedBody .ml-form-horizontalRow {<!-- [et_pb_line_break_holder] --> height: 42px;<!-- [et_pb_line_break_holder] --> }<!-- [et_pb_line_break_holder] --> .ml-form-formContent.horozintalForm .ml-form-horizontalRow .ml-input-horizontal { width: 70%; float: left; }<!-- [et_pb_line_break_holder] --> .ml-form-formContent.horozintalForm .ml-form-horizontalRow .ml-button-horizontal { width: 30%; float: left; }<!-- [et_pb_line_break_holder] --> .ml-form-formContent.horozintalForm .ml-form-horizontalRow .horizontal-fields { box-sizing: border-box; float: left; padding-right: 10px; }<!-- [et_pb_line_break_holder] --> #mlb2-1083206.ml-form-embedContainer .ml-form-embedWrapper .ml-form-embedBody .ml-form-horizontalRow input {<!-- [et_pb_line_break_holder] --> background-color: #ffffff;<!-- [et_pb_line_break_holder] --> color: #999;<!-- [et_pb_line_break_holder] --> border-color: #cccccc;<!-- [et_pb_line_break_holder] --> border-radius: 0px;<!-- [et_pb_line_break_holder] --> border-style: solid;<!-- [et_pb_line_break_holder] --> border-width: 1px;<!-- [et_pb_line_break_holder] --> font-size: 14px;<!-- [et_pb_line_break_holder] --> line-height: 20px;<!-- [et_pb_line_break_holder] --> padding: 10px 10px;<!-- [et_pb_line_break_holder] --> width: 100%;<!-- [et_pb_line_break_holder] --> box-sizing: border-box;<!-- [et_pb_line_break_holder] --> overflow-y: initial;<!-- [et_pb_line_break_holder] --> }<!-- [et_pb_line_break_holder] --> #mlb2-1083206.ml-form-embedContainer .ml-form-embedWrapper .ml-form-embedBody .ml-form-horizontalRow button {<!-- [et_pb_line_break_holder] --> background-color: #9b616d !important;<!-- [et_pb_line_break_holder] --> border-color: #9b616d;<!-- [et_pb_line_break_holder] --> border-style: solid;<!-- [et_pb_line_break_holder] --> border-width: 1px;<!-- [et_pb_line_break_holder] --> border-radius: 0px;<!-- [et_pb_line_break_holder] --> box-shadow: none;<!-- [et_pb_line_break_holder] --> color: #ffffff !important;<!-- [et_pb_line_break_holder] --> font-family: 'Open Sans', Arial, Helvetica, sans-serif;<!-- [et_pb_line_break_holder] --> font-size: 17px !important;<!-- [et_pb_line_break_holder] --> font-weight: 400;<!-- [et_pb_line_break_holder] --> line-height: 20px;<!-- [et_pb_line_break_holder] --> margin: 0 !important;<!-- [et_pb_line_break_holder] --> padding: 10px !important;<!-- [et_pb_line_break_holder] --> width: 100%;<!-- [et_pb_line_break_holder] --> }<!-- [et_pb_line_break_holder] --> #mlb2-1083206.ml-form-embedContainer .ml-form-embedWrapper .ml-form-embedBody .ml-form-horizontalRow button:hover {<!-- [et_pb_line_break_holder] --> background-color: #333333 !important;<!-- [et_pb_line_break_holder] --> border-color: #333333 !important;<!-- [et_pb_line_break_holder] --> }<!-- [et_pb_line_break_holder] --> #mlb2-1083206.ml-form-embedContainer .ml-form-embedWrapper .ml-form-embedBody .ml-form-checkboxRow input[type="checkbox"] {<!-- [et_pb_line_break_holder] --> display: inline-block;<!-- [et_pb_line_break_holder] --> float: left;<!-- [et_pb_line_break_holder] --> margin: 1px 0 0 0;<!-- [et_pb_line_break_holder] --> left: 0;<!-- [et_pb_line_break_holder] --> top: 0;<!-- [et_pb_line_break_holder] --> opacity: 1;<!-- [et_pb_line_break_holder] --> visibility: visible;<!-- [et_pb_line_break_holder] --> appearance: checkbox !important;<!-- [et_pb_line_break_holder] --> -moz-appearance: checkbox !important;<!-- [et_pb_line_break_holder] --> -webkit-appearance: checkbox !important;<!-- [et_pb_line_break_holder] --> position: relative;<!-- [et_pb_line_break_holder] --> height: 14px;<!-- [et_pb_line_break_holder] --> width: 14px;<!-- [et_pb_line_break_holder] --> }<!-- [et_pb_line_break_holder] --> #mlb2-1083206.ml-form-embedContainer .ml-form-embedWrapper .ml-form-embedBody .ml-form-checkboxRow .label-description {<!-- [et_pb_line_break_holder] --> color: #000000;<!-- [et_pb_line_break_holder] --> display: block;<!-- [et_pb_line_break_holder] --> font-family: 'Open Sans', Arial, Helvetica, sans-serif;<!-- [et_pb_line_break_holder] --> font-size: 12px;<!-- [et_pb_line_break_holder] --> text-align: left;<!-- [et_pb_line_break_holder] --> padding-left: 25px;<!-- [et_pb_line_break_holder] --> }<!-- [et_pb_line_break_holder] --> #mlb2-1083206.ml-form-embedContainer .ml-form-embedWrapper .ml-form-embedBody .ml-form-checkboxRow label {<!-- [et_pb_line_break_holder] --> font-weight: normal;<!-- [et_pb_line_break_holder] --> margin: 0;<!-- [et_pb_line_break_holder] --> padding: 0;<!-- [et_pb_line_break_holder] --> }<!-- [et_pb_line_break_holder] --> #mlb2-1083206.ml-form-embedContainer .ml-form-embedWrapper .ml-form-embedBody .ml-form-checkboxRow label a {<!-- [et_pb_line_break_holder] --> color: #000000;<!-- [et_pb_line_break_holder] --> text-decoration: underline;<!-- [et_pb_line_break_holder] --> }<!-- [et_pb_line_break_holder] --> #mlb2-1083206.ml-form-embedContainer .ml-form-embedWrapper .ml-form-embedBody .ml-form-checkboxRow label p {<!-- [et_pb_line_break_holder] --> color: #000000 !important;<!-- [et_pb_line_break_holder] --> font-family: 'Open Sans', Arial, Helvetica, sans-serif !important;<!-- [et_pb_line_break_holder] --> font-size: 12px !important;<!-- [et_pb_line_break_holder] --> font-weight: normal !important;<!-- [et_pb_line_break_holder] --> line-height: 18px !important;<!-- [et_pb_line_break_holder] --> padding: 0 !important;<!-- [et_pb_line_break_holder] --> margin: 0 5px 0 0 !important;<!-- [et_pb_line_break_holder] --> }<!-- [et_pb_line_break_holder] --> #mlb2-1083206.ml-form-embedContainer .ml-form-embedWrapper .ml-form-embedBody .ml-form-checkboxRow label p:last-child {<!-- [et_pb_line_break_holder] --> margin: 0;<!-- [et_pb_line_break_holder] --> }<!-- [et_pb_line_break_holder] --> #mlb2-1083206.ml-form-embedContainer .ml-form-embedWrapper .ml-form-embedBody .ml-form-embedSubmit {<!-- [et_pb_line_break_holder] --> margin: 0 0 20px 0;<!-- [et_pb_line_break_holder] --> }<!-- [et_pb_line_break_holder] --> #mlb2-1083206.ml-form-embedContainer .ml-form-embedWrapper .ml-form-embedBody .ml-form-embedSubmit button {<!-- [et_pb_line_break_holder] --> background-color: #9b616d !important;<!-- [et_pb_line_break_holder] --> border: none !important;<!-- [et_pb_line_break_holder] --> border-radius: 0px !important;<!-- [et_pb_line_break_holder] --> box-shadow: none !important;<!-- [et_pb_line_break_holder] --> color: #ffffff !important;<!-- [et_pb_line_break_holder] --> font-family: 'Open Sans', Arial, Helvetica, sans-serif !important;<!-- [et_pb_line_break_holder] --> font-size: 17px !important;<!-- [et_pb_line_break_holder] --> font-weight: 400 !important;<!-- [et_pb_line_break_holder] --> line-height: 20px !important;<!-- [et_pb_line_break_holder] --> padding: 10px !important;<!-- [et_pb_line_break_holder] --> width: 100% !important;<!-- [et_pb_line_break_holder] --> box-sizing: border-box !important;<!-- [et_pb_line_break_holder] --> }<!-- [et_pb_line_break_holder] --> #mlb2-1083206.ml-form-embedContainer .ml-form-embedWrapper .ml-form-embedBody .ml-form-embedSubmit button:hover {<!-- [et_pb_line_break_holder] --> background-color: #333333 !important;<!-- [et_pb_line_break_holder] --> }<!-- [et_pb_line_break_holder] --> .ml-subscribe-close {<!-- [et_pb_line_break_holder] --> width: 30px;<!-- [et_pb_line_break_holder] --> height: 30px;<!-- [et_pb_line_break_holder] --> background: url(https://bucket.mlcdn.com/images/default/modal_close.png) no-repeat;<!-- [et_pb_line_break_holder] --> background-size: 30px;<!-- [et_pb_line_break_holder] --> cursor: pointer;<!-- [et_pb_line_break_holder] --> margin-top: -10px;<!-- [et_pb_line_break_holder] --> margin-right: -10px;<!-- [et_pb_line_break_holder] --> position: absolute;<!-- [et_pb_line_break_holder] --> top: 0;<!-- [et_pb_line_break_holder] --> right: 0;<!-- [et_pb_line_break_holder] --> }<!-- [et_pb_line_break_holder] --> .ml-error input {<!-- [et_pb_line_break_holder] --> background: url(https://bucket.mlcdn.com/images/default/error-icon.png) 98% center no-repeat #ffffff !important;<!-- [et_pb_line_break_holder] --> background-size: 24px 24px !important;<!-- [et_pb_line_break_holder] --> }<!-- [et_pb_line_break_holder] --> .ml-error .label-description {<!-- [et_pb_line_break_holder] --> color: #ff0000 !important;<!-- [et_pb_line_break_holder] --> }<!-- [et_pb_line_break_holder] --> .ml-error .label-description p {<!-- [et_pb_line_break_holder] --> color: #ff0000 !important;<!-- [et_pb_line_break_holder] --> }<!-- [et_pb_line_break_holder] --> <!-- [et_pb_line_break_holder] --> #mlb2-1083206.ml-form-embedContainer .ml-form-embedWrapper .ml-form-embedBody .ml-form-checkboxRow.ml-error .label-description p,<!-- [et_pb_line_break_holder] --> #mlb2-1083206.ml-form-embedContainer .ml-form-embedWrapper .ml-form-embedBody .ml-form-checkboxRow.ml-error .label-description p:first-letter {<!-- [et_pb_line_break_holder] --> color: #ff0000 !important;<!-- [et_pb_line_break_holder] --> }<!-- [et_pb_line_break_holder] --> @media only screen and (max-width: 400px){<!-- [et_pb_line_break_holder] --> .ml-form-embedWrapper.embedDefault, .ml-form-embedWrapper.embedPopup { width: 100%!important; }<!-- [et_pb_line_break_holder] --> .ml-form-formContent.horozintalForm { float: left!important; }<!-- [et_pb_line_break_holder] --> .ml-form-formContent.horozintalForm .ml-form-horizontalRow { height: auto!important; width: 100%!important; float: left!important; }<!-- [et_pb_line_break_holder] --> .ml-form-formContent.horozintalForm .ml-form-horizontalRow .ml-input-horizontal { width: 100%!important; }<!-- [et_pb_line_break_holder] --> .ml-form-formContent.horozintalForm .ml-form-horizontalRow .ml-input-horizontal > div { padding-right: 0px!important; padding-bottom: 10px; }<!-- [et_pb_line_break_holder] --> .ml-form-formContent.horozintalForm .ml-button-horizontal { width: 100%!important; }<!-- [et_pb_line_break_holder] --> .ml-form-embedHeader { display: none !important; }<!-- [et_pb_line_break_holder] --> }<!-- [et_pb_line_break_holder] --></style><!-- [et_pb_line_break_holder] --><div id="mlb2-1083206" class="ml-form-embedContainer ml-subscribe-form ml-subscribe-form-1083206"><!-- [et_pb_line_break_holder] --> <div class="ml-form-align-center "><!-- [et_pb_line_break_holder] --> <div class="ml-form-embedWrapper embedForm"><!-- [et_pb_line_break_holder] --> <div class="ml-form-embedBody ml-form-embedBodyDefault row-form"><!-- [et_pb_line_break_holder] --> <div class="ml-form-embedContent"><!-- [et_pb_line_break_holder] --> <h4></h4><!-- [et_pb_line_break_holder] --> </div><!-- [et_pb_line_break_holder] --> <form class="ml-block-form" action="https://app.mailerlite.com/webforms/submit/i2a8a8" data-code="i2a8a8" method="post" target="_blank"><!-- [et_pb_line_break_holder] --> <style type="text/css"><!-- [et_pb_line_break_holder] --> .ml_message_wrapper {<!-- [et_pb_line_break_holder] --> position: absolute !important;<!-- [et_pb_line_break_holder] --> left: -9999px !important;<!-- [et_pb_line_break_holder] --> }<!-- [et_pb_line_break_holder] --> </style><!-- [et_pb_line_break_holder] --> <div aria-label="Please leave the following field empty" class="ml_message_wrapper"><!-- [et_pb_line_break_holder] --> <input type="text" name="ml_message" tabindex="-1" value="" placeholder="Message" autocomplete="off" title="message"><!-- [et_pb_line_break_holder] --> <input type="text" name="ml_email" tabindex="-1" value="" placeholder="Email" autocomplete="off" title="email"><!-- [et_pb_line_break_holder] --> <input type="text" name="ml_name" tabindex="-1" value="" placeholder="Name" autocomplete="off" title="name"><!-- [et_pb_line_break_holder] --> </div><!-- [et_pb_line_break_holder] --> <div class="ml-form-formContent"><!-- [et_pb_line_break_holder] --> <div class="ml-form-fieldRow ml-last-item"><!-- [et_pb_line_break_holder] --> <div class="ml-field-group ml-field-email ml-validate-email ml-validate-required"><!-- [et_pb_line_break_holder] --> <input type="email" class="form-control" data-inputmask="" name="fields[email]" value="" placeholder="Email"><!-- [et_pb_line_break_holder] --> </div><!-- [et_pb_line_break_holder] --> </div><!-- [et_pb_line_break_holder] --> </div><!-- [et_pb_line_break_holder] --> <style type="text/css"><!-- [et_pb_line_break_holder] --> .ml-form-recaptcha {<!-- [et_pb_line_break_holder] --> margin-bottom: 20px;<!-- [et_pb_line_break_holder] --> }<!-- [et_pb_line_break_holder] --> <!-- [et_pb_line_break_holder] --> .ml-form-recaptcha.ml-error iframe {<!-- [et_pb_line_break_holder] --> border: solid 1px #ff0000;<!-- [et_pb_line_break_holder] --> }<!-- [et_pb_line_break_holder] --> </style><!-- [et_pb_line_break_holder] --> <div class="ml-form-recaptcha ml-validate-required"><!-- [et_pb_line_break_holder] --> <script src="https://www.google.com/recaptcha/api.js"></script><!-- [et_pb_line_break_holder] --> <div class="g-recaptcha" data-sitekey="6Lf1KHQUAAAAAFNKEX1hdSWCS3mRMv4FlFaNslaD"></div><!-- [et_pb_line_break_holder] --> </div><!-- [et_pb_line_break_holder] --> <input type="hidden" name="ml-submit" value="1"><!-- [et_pb_line_break_holder] --> <div class="ml-form-embedSubmit"><!-- [et_pb_line_break_holder] --> <button type="submit" class="primary">Notify me</button><!-- [et_pb_line_break_holder] --> <button disabled="disabled" style="display: none;" type="button" class="loading"><!-- [et_pb_line_break_holder] --><!-- [et_pb_line_break_holder] --> <div class="ml-form-embedSubmitLoad"><div></div><div></div><div></div><div></div></div><!-- [et_pb_line_break_holder] --><!-- [et_pb_line_break_holder] --> </button><!-- [et_pb_line_break_holder] --> </div><!-- [et_pb_line_break_holder] --> </form><!-- [et_pb_line_break_holder] --> </div><!-- [et_pb_line_break_holder] --> <div class="ml-form-successBody row-success" style="display: none"><!-- [et_pb_line_break_holder] --> <div class="ml-form-successContent"><!-- [et_pb_line_break_holder] --> <h4>Thank you!</h4><!-- [et_pb_line_break_holder] --> <p>I am honored that you are interested in working with me. When I have an open spot I will notify you.</p><!-- [et_pb_line_break_holder] --> <p>- Julia</p><!-- [et_pb_line_break_holder] --> </div><!-- [et_pb_line_break_holder] --> </div><!-- [et_pb_line_break_holder] --> </div><!-- [et_pb_line_break_holder] --> </div><!-- [et_pb_line_break_holder] --></div><!-- [et_pb_line_break_holder] --><script><!-- [et_pb_line_break_holder] --> function ml_webform_success_1083206() {<!-- [et_pb_line_break_holder] --> var $ = ml_jQuery <!-- [et_pb_line_break_holder] --> jQuery;<!-- [et_pb_line_break_holder] --> $('.ml-subscribe-form-1083206 .row-success').show();<!-- [et_pb_line_break_holder] --> $('.ml-subscribe-form-1083206 .row-form').hide();<!-- [et_pb_line_break_holder] --> }<!-- [et_pb_line_break_holder] --></script><!-- [et_pb_line_break_holder] --><img src="https://track.mailerlite.com/webforms/o/1083206/i2a8a8?vaa4d608450783acdc64d5338ff94f6d5" width="1" height="1" style="max-width: 1px; max-height: 1px; visibility: hidden; padding: 0; margin: 0; display: block;" border="0"><!-- [et_pb_line_break_holder] --><script src="https://static.mailerlite.com/js/w/webforms.min.js?vaa4d608450783acdc64d5338ff94f6d5" type="text/javascript"></script>