What to Do When a Logo Vector Format Request Lands in Your Inbox Like an Egg on Your Face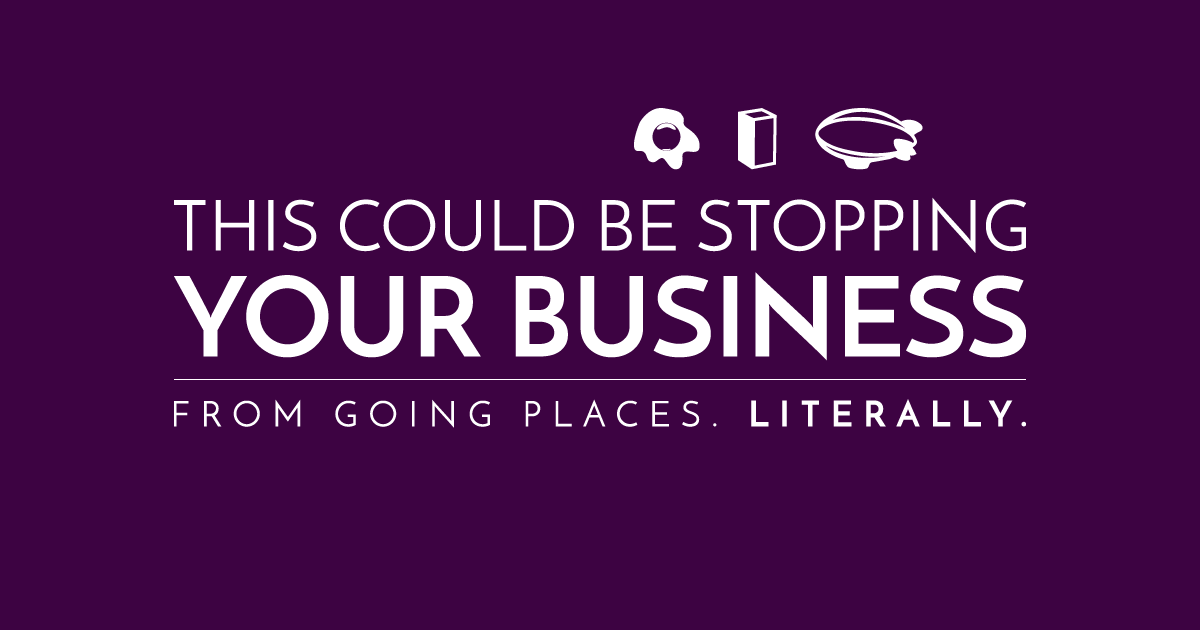 Your company just got invited to a HUGE conference! Hurray!
You send all the requested material to the organizers as fast as you can type with your fingers crossed while thinking about booking flights.
But just as you're about to break into your "We did it!" dance that's a cross between the robot and the electric slide, an email from the conference's designer lands in your inbox like an egg on your face:
"Please send your company logo in vector format ASAP or we won't be able to add you to the program."
Say WHAH?

Who's this vector and how dare he threaten your hard-earned success in this way?
Your logo creator—a plumber moonlighting as a "designer" because he's got photoshop installed on his computer who did your design for 50 bucks —claims to know nothing of this vector business.
NEWS FLASH: vector is pretty important for business.
Sadly, most business owners learn about it when it's already too late.
So please, allow us to make the introductions:
Business owner, Meet Vector.
The most important thing to know about Vector is that he's a math whiz.
A regular picture file (called "raster" in design-ese lingo) is made up of pixels (tiny little squares of color), collectively called resolution.
But a vector format file is made up of mathematical equations (lying beneath the surface of your screen–very 007!) that define the distance, curvature, angles, etc. between the various points of the shapes you see.
Translation?
Because vector files depend on equations, you can stretch your tiny, pinhead logo to the size of the Empire State building without causing it any stretch marks pixelation.
But try to enlarge a non-vector logo even just a little bit? And it will look like it was created by a square peg running on a rampant.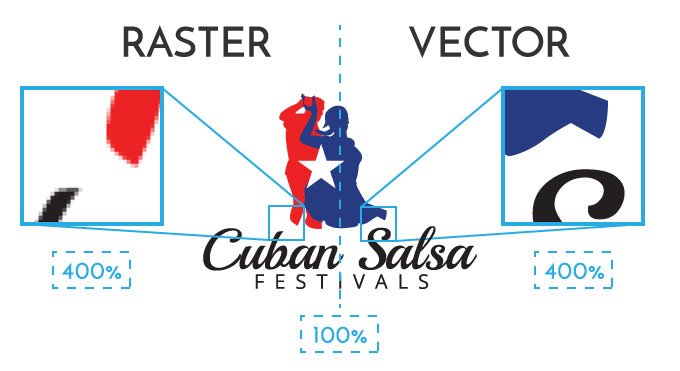 That's because online images look good at the low (and fast-loading) resolution of just 72dpi (although that number is now increasing with retina screens). But printed images need at least 300dpi to look good.
That's over four times the resolution of a screen!
Good luck stretching your online logo to that to size for printing!
Can You Tell Raster from Vector? (And Who's Your Real Friend?)
Raster files are the good ol' files you recognize from messing around with pictures on your camera and the web: .jpg, .tiff, .png, .psd, and .bmp.
The awesome thing about raster files is that they include myriads of pixels allowing for highly-detailed and realistic images. Hence, photography. (Just don't try to stretch 'em)
Vector files have different file endings, some of which you may not recognize if you haven't messed around with specialized design programs too much: .eps, .ai, and .cdr.
The awesome thing about vector files is that they can provide undistorted designs that look equally sharp and appealing in all sizes. Hence, logos. (But don't expect photorealism.)
Does That Mean You Need Special Design Programs to View a Vector File?
To give it to you straight: Yes.
Without a specialized design program, you won't be able to open a vector file.
So should you even bother asking for a vector file if you can't open it?
Yes, absolutely.
If you ever work with a different designer on a project, get invited to a professional conference, need to print any type of materials for your company, decide to make a smashing little animation out of your logo, or in general want to use your logo more than just the one time your plumber-designer will stick it onto your website, you'll need to have it in vector format.
Even if you can't open it yourself. Your designer will.
So, when you get that shiny new logo designed and delivered?
Make sure you ask for it both in a raster (as in .jpg) format for your immediate use and a vector format for future use.
And the best way to do that?
Is through a good old PDF file!
PDF files can hold both raster images and vector shapes, which makes them ideal for sharing information on the web.
If your designer is super-cool and top-of-her-game she can put your vector logo in a PDF file so you can view it on your regular PDF reader. And then pass it along to any other professional in the future for both web and print purposes.
It's a win-win situation!
Your logo defines everything your brand stands for and represents your brand everywhere where there are eyes to see it.
Be it your website, a video, at a conference, an exhibition booth, or the led zeppelin hovering over your local Mayfair.
Getting that PDF with the vector format of your logo from your designer?
Will save you from having to deal with egg on your face when you embarrassingly have to admit that you don't have a vector file to send to a professional event.
And knowing that you need to ask for it from your designer so you can go to that damned conference?
Will safeguard your business against the biggest mistake that stops businesses from going places. Literally.
Do YOU have the right logo file format on file?