Taming the WordPress Beast: How to Find the Perfect Theme For Your Website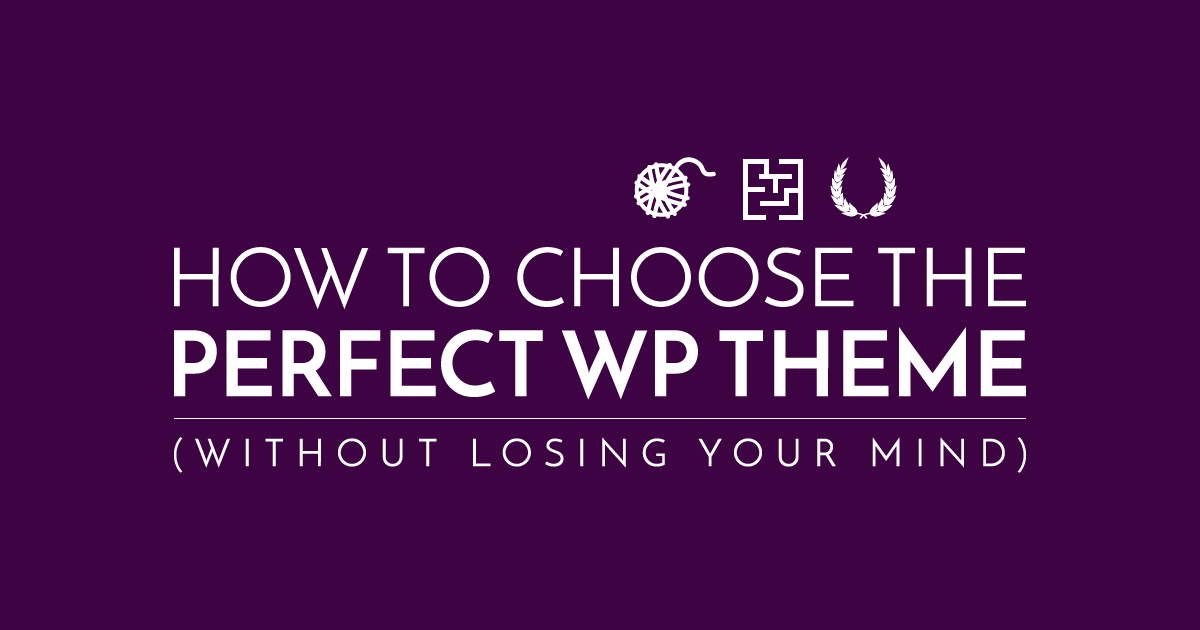 Trying to choose the perfect WordPress theme to start or update your website can have you feeling like Theseus wandering about the labyrinth without Ariadne's string:
Not only do you have to find your way to the middle of the dizzying labyrinth and kill the beast, but you must also find you way back out the labyrinth before starvation gets to you.
Despite the confusing maze of themes and features that it offers (or, actually, because of it), WordPress is an awesomely versatile platform. Its many features and choices allow everybody, from the code-loving to the code-phobic, to create stunning online homes for their businesses.
Whether free or premium, the right theme can be a gift from the gods, allowing you to create an authentic representation of your vision online. But the gods aren't easy to yield their gifts, and you'll need some guidance through the maze.
Lucky for you, we had an extra piece of string lying around the studio today and decided to use it to help you navigate your way through the WordPress maze. At the end of the journey, you'll come back victorious holding a beautiful and functional website in your hands that's all your own.

Ready for the adventure, heroes and heroines?
(Pst, in case you get hungry, we've stuffed some chocolate & caviar into the center of your spool. Because, …little surprises)
Let's conquer the WordPress Beast with these 7 steps to the perfect theme:
1. Don't Go Looking for That Perfect Theme Just Yet!
Opening up a theme-market website and looking at theme after theme after theme until your head spins is the equivalent of Theseus picking up his sword and rushing through the labyrinth at full speed hoping that he'll chance upon the Minotaur at the next corner. Not very effective.
Opening whatever theme looks flashy and impressive in a new tab until you have so many tabs that they can't fit into your browser window isn't doing research. It's just a procrastination mechanism that can leave you overwhelmed and nursing a headache. No matter how long the piece of string we give you, it's bound to get tangled and have you meandering lost through the labyrinth forever.
2. Shut Your Screen and Grab Pencil and Paper
That's right. Pencil and paper. If you want to create the awesome digital home you've been dreaming for your business, then you need to start offline.
Start drawing boxes on your paper, pretending that each box is a particular page of your future website (homepage, about page, a landing page, your blog main page, a blog post page, your services page, etc.). In each box, write the purpose that the page will serve and what options it will offer your visitors for continuing the journey down your website. What will visitors see when they first come to your page? What do you want them to see or do or read next? How can you make that direction clear?
In Web Design parlance, this scribbling process is called wireframing and is crucial for planning the right structure for your website.
The boxes in this step are not here to dictate your final design but to make sure you have included all the necessary elements (and only those) on each page. Draw as many boxes as pages on your website (on as many pieces of paper as you need to). Think about the messages you want to communicate to your visitors and the experience you want them to have of your site.
Take detailed notes, scribble boxes, connect the boxes with lines, step back, take a breather and then dive back in, cross out and erase complications and fluff. Repeat until you have refined your user's experience into a delightful, joyful journey.
3. Make a List
Go through your wireframes and make a clear list on a new piece of paper of all the functional features your ideal theme needs to have.
Do you need a big image on the homepage but not the inner pages? A sign-up box in the sidebar? Of every page or just some? What about social media sharing buttons on blog posts? Should they be on the sidebar or below each post? An e-shop? Any widgets in the footer or sidebar of your pages? A portfolio page?
Don't open your browser yet! Just look at your wireframes and work from there, refining your pages as needed as you go along. Looking at other people's websites at this point (especially people whose work you admire) will only get you excited and sidetracked by features you may not need. Which is the equivalent of running circles around yourself getting tangled in your rescue string, tripping over it, and falling flat on your face. Ouch!
If you need some help finding the beginning of your string, we suggest you add these must-have features for websites that are functional and beautiful across all devices:
– retina ready (for clear viewing on the latest screens)
– responsive (for beautiful and functional browsing across all devices)
Bonus features to look for in the default settings (so you don't have to install separate plugins):
– social media sharing buttons for blog posts
– SEO pack
4. Define Your Visual Style
Not every hero or heroine will march into the labyrinth with the same stride. Or the same outfit. Your visual style has to express your particular brand vision as much as the functionality you've just defined for your website provides the infrastructure on which to build that vision.
Minimalistic pages with straight lines and lots of white space? Frilly and flowery? Strong and bold but clear of noise?
What about colors? Which colors represent your brand? Write them down. The last thing you want is to find the "perfect" theme only to discover that it doesn't include a color palette that expresses your brand. And then you're stuck, having to retrace your steps back to the beginning of the labyrinth unsuccessful. Ugh!
5. Know Thyself (and Thy Coding Skills)
Are you comfortable writing a bit of code? Or do the letter combinations "html" and "css" make you want to scream and run? Do you like tinkering around in WordPress, figuring things out? Or do you like it all to be simple and straightforward?
Do you love having choices to play around with? Or do too many choices overwhelm you and make you want to hurl your laptop across the room and out the window? (Which is, surprisingly, not very conducive to conducting business). Afraid you might start something and then get stuck? Then it may be wise to select a theme with a "done for you" customization option by its author in case you get stuck.
There's more that one way to skin a cat (yuk!) and there's more than one way of installing, customizing, and handling your website in WordPress for the days and years to come (yay!). Being honest about the level of your coding expertise and about the coding work you'd like (or not like) to be doing for maintaining your website now, will keep you from loathing yourself later. And no great hero was ever known for his self-loathing, so take your cue from that!
6. Time to Face the Theme
Armed with your lists of must-have functional features and visual brand elements, as well as your understanding of your coding skills and desires, you're ready to navigate the labyrinth and face the big Theme.
You can visit the WordPress theme directory for a list of free and premium themes, or browse through premium theme markets like ThemeForest and ElegantThemes or StudioPress.
Begin by wielding your prepared lists like sharp-edged swords to eliminate any and all themes that can't stand up to your desired functionality.
Found a pretty theme that's missing some essential functionality, like mobile responsiveness or portfolio capabilities? Close the page and move on! Plenty of themes in the market! (Unless of course you feel comfortable coding the missing piece yourself. Then you might have a possible candidate.) Is the theme that passed your functional-features test also visually aligned with your brand? Excellent, now you have an awesome candidate!
7. The Victory Wreath: Documentation
From all the awesome Theme candidates you've carefully selected which theme shall crown you the winner and help you emerge out the WordPress Theme labyrinth victorious?
Documentation might play the deciding factor in that!
No matter how comfortable you are with WordPress, you don't want to have to guess where the developer decided to put certain features or what the exact procedure for changing your header image is, or how exactly to recreate that thing that you loved so much on the demo site.
The documentation of a theme consists of step-by-step instructions on how to customize the theme any way you want. And having these instructions can make the difference between a crowning victor and a slaying monster.
Documentation for a theme can come in the form of a pdf delivered at the time of purchase of theme. It can also be a page on the developer's website or a forum where you can post your questions and browse through the questions of others. StudioPress grants access to anyone buying a theme to a members' area full of tutorials, code spinets, FAQs, an active forum, and personalized support tickets for persistent problems.
Remember that once you face the Theme beast, you still have to find your way out the labyrinth alive. And for that you have to make sure that your chosen theme offers amazing after-sales experience and support for the road to launching.
Before you make your final decision to buy a theme have a look through the comments and reviews of those who've already bought the theme to see what they have to say. Is the developer of the theme helpful and available to solve problems that arise (and they always arise)? What's the average time of response to questions? Are people generally happy with this theme and the assistance provided through implementation?
If the answer to the last question is yes, Ding Ding Ding we have a winner!
Labyrinth traversed. Beast tamed. Hero victorious.
What's your epic website tale going to tell the world?